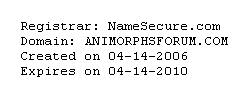 Hopefully I was not jumping the gun when I ordered 2 more years of the
animorphsforum.com
domain. The animorphsforum.com domain is the first of 2 paid domains which I currently own/rent in relation to RAF.
This main domain, as you can see from the whois record, was created on a special day (April 14), 2006, two years ago. It was set to expire this year, but I thought hey, what the heck? I think we'll still be talking about Animorphs for two more years.
I am also contemplating upgrading our host for that domain (which paves the way for moving from Conforums, if needs be). Hosting expires in 30 days (not to be confused with Conforums' hosting of the actual forum, and the forum only), so we'll see.
The other domain theanimorphsforum.com, was purchased late last year after I changed the name of the forum to RAF: The Animorphs Forum, is currently active, and will be extended in time.