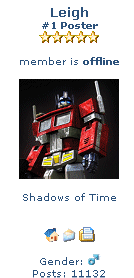 After three years and tens of thousands of posts later,
Leigh
, our top poster, is deciding to take a
brake
break from RAF. Here's his post, made today, May 5 2008:
For all those that remember me, lol, pretty much life has changed recently and time for coming here has shortened.

I've got other things to do, things that mean more to me now.

I thought I'd be courtious, who would've thought I'd be that, and let people know I'm leaving.

Nothing against anyone here, except maybe Tyler :P Lol, kidding, life has to come first.

So goodbye! I may pop in occasionally but I won't be around anymore.

I still hold the record for the first person to reach 10k posts AND 20k posts ;) Lol, have fun!
Read ->