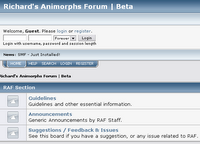 In our 4 years I have never moved from Conforums. But I think for the 4th birthday of RAF I will make the move to SMF, a wholly hosted board system.
Unfortunately, all posts, members, etc will be removed. On the plus side, more features, and functionality.
What do you think? Sound off below, or at RAF.